The Solid Sail 2.0 project aims to consolidate the concept of a rigid sail produced from articulated composite panels, which can be folded without any external action or buckling.
As it is manufactured from composite panels, the rigid has a virtually indefinite lifecycle. The design was developed and patented by STX Shipyards and has been the subject of two demonstrators tested at sea in 2016 and 2017.
This second phase of the project involves moving on from the demonstrator stage to a product that is as effective as the classic, flexible sail but is noticeably similar in cost and five times more durable.
The first application targeted is the market for new generation sailing cruise ships. The first two demonstrators showed the validity of the design and highlighted the improvements required to compete fully with flexible sails.
The rigid sails could also be of interest to the fishing and leisure boating sectors. The Solid Sail 2.0 project is also recognised by the EMC2 cluster.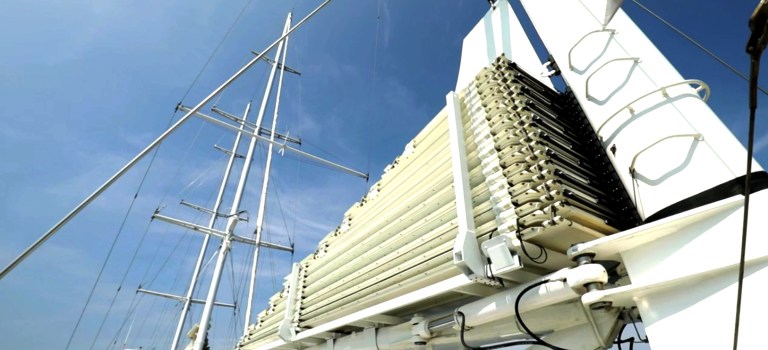 Project details
Partners companies:
Multiplast, Vannes [Project Developer]
Awentech, Brech
G-Sea Design, Lorient
Incidence, Brest
Mer Vent, Port-La-Forêt
Ocean Data System, Lorient
STX France, Saint Nazaire
Research center: ENSTA Bretagne, Brest
Funder: Conseil régional de Bretagne (FEDER)
Labelisation: 01/06/2018
Overall budget: 994 K€
A network for the new generation green ships
This Breton consortium is working as a network for this rigid sail project, backed by Chantiers de l'Atlantique, co-labelled by the Pôle Mer Bretagne Atlantique and the Pôle EMC2.
Tested for more than a year, Solid Sail 2.0 is a 100% composite, high performance and foldable sail. It is intended in first application to propel new generation zero-energy sailing ships. From a technological point of view, Solid Sail 2.0 combines safety, efficiency and longevity (25 years compared to 5 years for a traditional sail).
The project also meets an energy transition challenge for international shipping, which must drastically reduce its greenhouse gas emissions over the coming years. Brittany intends to raise the profile of this know-how and these unique skills and spread them around the world.
During JEC World 2020, visitors will be able to discover Solid Sail 2.0 project on the Brittany pavilion (Hall 6 – R72).
Source and more information: www.pole-mer-bretagne-atlantique.com, www.chantiers-atlantique.com, www.multiplast.eu