Leading plastics producers worldwide have been using the CAMPUS database for more than 30 years to provide their customers with important and high-quality material data. Due to the consistent adherence to testing standards, CAMPUS offers the best data quality worldwide and guarantees comparable data of all materials. Until now, CAMPUS has mainly offered data of injection moldable thermoplastics. Continuous fiber reinforced thermoplastics could not be taken into account because there was a lack of uniform testing procedures for material characterization in industry.
Since 2015, an expert task force of material suppliers has been working on this issue under the umbrella of the AVK. The aim is to work out a generally accepted characterization procedure for continuous fiber-reinforced thermoplastics in the form of tradable semi-finished products (organic sheets or tapes). In addition, the international standardization of the newly developed procedures is in focus.
Well-known material suppliers work directly together in this expert tasks force (Arkema, Bond Laminates/Lanxess, Covestro, DSM, Mitsui Chemicals, Profol, Sabic, Solvay), organized and scientifically managed by the institute for composite materials. There is also a close exchange with a monitoring committee of the automotive industry consisting of OEMs (BMW, Daimler, Ford, Opel…).
The work of the AVK expert task force is well advanced and first results are available which allow this new class of materials to be included in CAMPUS. The operators of CAMPUS were convinced of the usefulness of the proposed testing procedures and gave their permission for integration. The new extended version of CAMPUS with material data for continuous fiber-reinforced thermoplastics was publicly released at the end of last year.
In a first step, the essential parameters for the description of the basic material properties are released. This enables the user to preselect materials based on these properties and to design structures with these materials. Besides general product information (manufacturer, processing, …), mechanical values (directional stiffness and strengths), thermal values (expansion coefficients) and general characteristic values (density, …) can be found in the database.
In the future, additional parameters will follow in further steps, especially in regard to the usage of material data in CAE software.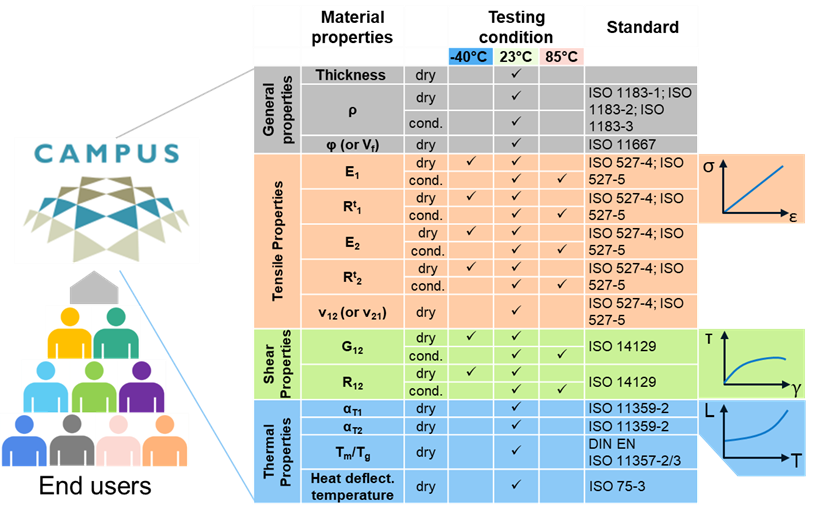 Further information and demonstrations can be found at http://www.campusplastics.com and www.ivw.uni-kl.de/avk-cfrtp-campus.
Source: AVK