Nine domestic companies and institutions including Hyundai Elevator, Woojin Electric, Shinsung Materials, N Plastech, DYETEC Institute, Changan Machinery, Dong Yang Manufacturing, Taekwang Industrial, and Korea Testing Laboratory (KTL) participated in the development of a carbon fiber belt type 1260m/min elevator technology. This research was conducted over five years from 2014 with the support from the Ministry of Trade, Industry, and Energy.
The advantages of carbon fiber belt
The core of the 1260m/min elevator system is at the newly developed carbon fiber belt that only weighs 1/6 of the metal ropes commonly used in elevators.
With this new type of belt, there will be possible to:
extend the travel distance from 600m to over 1000m
reduce electricity consumption by 30%
produce safer elevators since the carbon fiber belt high natural oscillation prevents resonance due to wind and earthquakes that may occur in high-rise buildings and enables safe operation.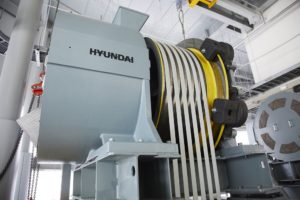 Moreover, the surface of the carbon fiber belt, which has thermal stability and tensile strength, is coated with a polymer material to enhance its friction factor and abrasion resistance, thereby doubling its life span.
Other advanced technologies have also been applied. The new elevator achieved global competitiveness with the high-speed and high-capacity hoisting system with 9-phase motors. These motors can operate normally even if a part of the system fails, a control system equipped with a high-performance CPU and real time operating system, a streamlined capsule cage that reduces air resistance by 7% and improves comfort and stability with biomimetic technology, and a special ceramic safety device that enhances abrasion and heat resistance.
The test at the building Burj Khalifa
Applying this system to the highest existing building Burj Khalifa (828m) can reduce the time to reach the top floor by 20%, from 57 seconds to 46 seconds. It also makes it possible to travel to the top floor at once without having to transfer to another elevator in the middle floor due to the travel distance limit.
Hyundai Elevator will accelerate commercialization through procedures such as establishing domestic certification standards. The company will furthermore construct one of the world's highest test tower in Chungju, where the headquarters will be relocated in 2022, and install and operate the new elevator.
For more information: Hyundai Elevator