From Maryland (USA) comes a new development in the engineering field. "Morphing" nozzle that allows to 3D print custom parts with fiber-filled composites: materials assembled with short fibers that boost special properties over usual 3D-printed parts, such as enhancing part strength or electrical conductivity.
Researchers at the University of Maryland (UMD) have created new printheads different from the traditional ones. This device is in fact characterized by new lateral actuators that make it:
change its shape during printing
effectively re-orientate a material's fibers that until now has been hard to control
Employing this new nozzle, it was possible to modify the swelling qualities of complex objects, potentially lending them biomedical or military applications.
Ryan Sochol, an assistant professor of mechanical engineering at UMD explains
"When 3D printing with our morphing nozzle, the power lies in its side actuators, which can be inflated like a balloon. This changes the shape of the nozzle, and in turn, the orientations of the fibers."
In order to demonstrate their new approach, American engineers looked at the rising applications of 4D printing.
Here the words of UMD mechanical engineering professor David Bigio, a co-author of the study: "4D printing refers to the relatively new concept of 3D printing objects that can reshape or transform depending on their environment. In our work, we looked at how printed parts swelled when submerged in water, and specifically if we could alter that swelling behavior using our morphing nozzle."
The UMD's shape-shifting nozzle
Improvements in 4D printing depend on materials able both to swell more in one direction than another ("anisotropic") and do it equally in all directions ("isotropic"). The transition from one condition to the other one is complicated and required to print with different materials.
Technicians were thrilled when they found that they could induce this kind of transition within a single composite simply by changing the shape of the nozzle during the 3D printing process. This means that their approach could be applied not only in 4D printing but also for 3D printing many other composite materials. It will be possible to customize the elastic, thermal, magnetic, or electrical properties of composites.
Even the morphing nozzle was built using a 3D printing technology called "PolyJet Printing", a multi-material inkjet-based approach offered by UMD's Terrapin Works 3D Printing Hub. Thanks to this different technology, the nozzle was 3D printed with:
flexible materials for the inflatable side actuators and the shape-changing central channel
rigid materials or the outer casing and the access ports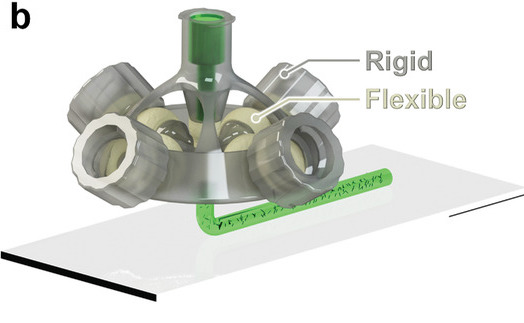 Future applications
This work opens the door for new applications of 3D printing that exploit these material features. First of all, the academic team is studying how to realize biomedical applications. Bulk printed objects could reshape in the presence of particular stimuli from the body.
Secondly, they are discussing with different Department of Defense labs to use the morphing nozzle to support the production of weapons for defense and other military systems.
Source: 3D Printing Industry