In a race to be clean and green the motor industry is changing, which has inspired 40 Warwick students to make an electric superbike to race this summer, 2020.
As the government has announced proposals to ban the sale of petrol, diesel and hybrid cars by 2035 the race to electrify the motor industry is on, and motorbikes aren't to be overlooked.
The team
The 40 students from a range of departments including: WMG, School of Engineering, Computer Science, Physics and Maths will work together to make the electric superbike possible with thanks to support from Rajputana Custom Motorcycles and Mupo Race Suspension.
School of Engineering student Aman Surana is managing the Warwick Moto team, he comments: "[…] My work experience at one of Asia's biggest custom motorcycle shops Rajputana Custom Motorcycles helped reinforce my passion for motorcycles and is the reason Warwick Moto exists. It's great to have the support from our sponsors Rajputana Custom Motorcycles and Mupo Race Suspension, and further support from WMG centre High Value Manufacturing Catapult, leading 2. Electric superbike designed by students' academics in the industry are helping us to make this possible."
The students will work in sub-teams focussing on:
Battery and Drivetrain
Chassis
Design and Aerodynamics
Finance
Marketing
On-Board Auxiliary systems.
Preparations for the technological demonstration in July
Superbike rider Tom Weeden has agreed to ride the electric superbike for them, and will be involved in all the testing and trials ready for a self-organised technological demonstration event in July 2020, he comments:
"[…] The electric class is something I've been interested in and keen to be involved in for some time now. I'm looking forward to working with the students to develop a package that we can build for the future. Hopefully one day we can go to the TT and take it to the big budget teams.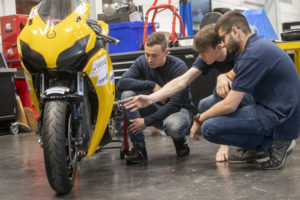 The passion these guys have is truly inspiring and I'm looking forward to learning more about how the technology works and adapting my riding to suit the different characteristics of the electric motor. I've ridden my brothers electric trials bike for the past few years and I know just how much torque and instant linear power these bikes can produce. The bike is based on the Honda Fireblade which has a brilliant handling chassis so should be an awesome platform to build from. Fingers crossed we can bring the budget that this team deserve to put together and develop the technology of the future!"
The next testing
The students will have the motor and invertor delivered and tested in the next month and will test the battery at the same time. They hope to have the prototype module testing in March. The bike will then race at events over summer, but the long-term objective is to compete with a podium qualifying time at the Isle of Man TT 2022.
Images: WMG, University of Warwick
On the bottom: The full team of students and academics with the driver, Tom Weeden
In the text: Tom Weeden, left with students and the electric bike
Source: University of Warwick – Editorial changes are made by Compositi magazine